Do you love cake? Do you love mugs? If you answered yes to either question then you know in your heart that mug cake is for you. Mug cake is just so incredibly cozy! What could be better than curling up on the couch with a warm chocolate cake in a mug in your hands? It is the pinnacle of being.
Food confession time: when I was a kid, I LOVED those frozen chocolate cakes you got at the grocery store. My mom never baked chocolate cake, so Deep'n Delicious is the chocolate cake that has all my warm and fuzzy nostalgic childhood memories. I'm pretty sure it's a Canadian thing, so if you have no idea what I'm talking about, I don't blame you. Basically, DND (as it shall now be known) is a frozen chocolate cake with star shaped chocolate frosting piped on top. The closest thing I've found to it while living in America is SaraLee.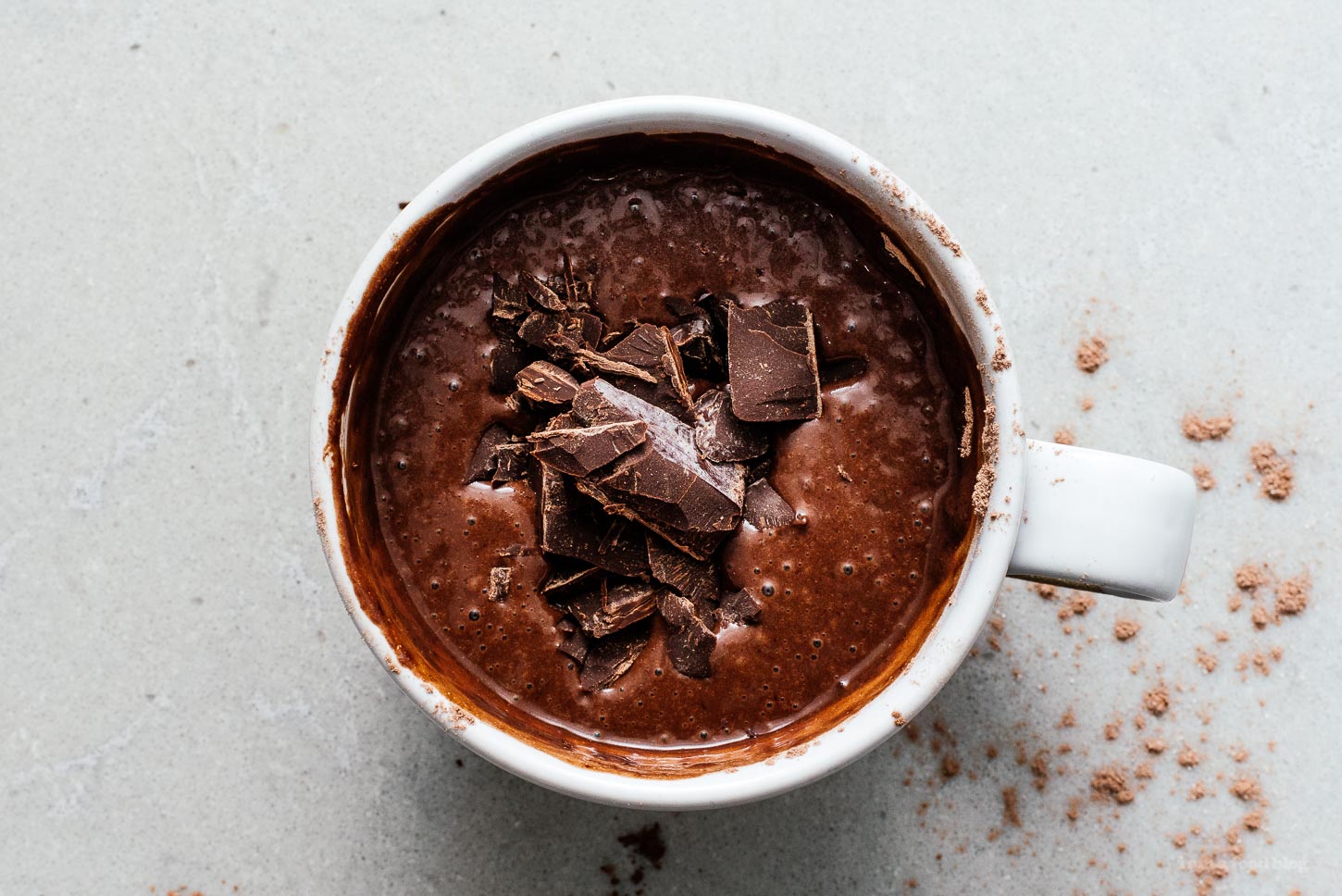 I totally don't buy frozen chocolate cake anymore (or do I?!), but what I remember loving about it was the fact that there was always cake on hand. It was frozen, but magically easy to slice and enjoy at all times of the day. Mug cake is almost as easy as pulling a pre-made cake out of the freezer, but it has the bonus of being warm, so mug cake is my new favorite thing!
What is mug cake?
Mug cake is a cake that's made in a mug! It bakes up in just a minute in the microwave and is a warm and chocolate-y treat that will satisfy any chocolate sweet tooth. Mug cake is perfect for when you just want a single serving of cake and don't want to bust out all your baking equipment.
What does it taste like?
Heaven! Seriously, I'm not joking guys, this cake is SO GOOD. It's moist, chocolatey, and light and fluffy. I love the melty chocolate parts that essentially make it like molten chocolate lava cake. I like it plain, with a little bit of powdered sugar, with whipped cream, with ice cream, oh my gosh, I feel like I need one right now. The best part is that it comes together so quickly. Bonus points for the fact that I almost always have everything right at home.
Mug cake ingredients
For this mug cake, you need:
Milk. I use whatever milk I have in the fridge, usually 2% or almond.
Oil. Try to use a neutral oil that doesn't have any flavor like canola oil.
Flour.
Cocoa powder. For cocoa powder, we need the unsweetened kind, not hot chocolate milk.
Baking powder.
Sugar. You can adjust the sugar to you liking, or use a sugar alternative.
Chocolate chips. The chocolate gets melty and gooey and is the best part! I usually just chop up a bit of a chocolate bar/baking chocolate if I don't have chocolate chips in the pantry.